Information for Participants
Important request to participants.
Recording and photography is prohibited on all the sessions during the Online Meeting.
After careful consideration, the organizing team of 47th JSOT (JSOT2020) has decided to host the annual meeting in this year online only. The virtual meeting will be held on the initially planned dates from 29th June –1st July 2020, and the most oral sessions will be organized by live streaming and prerecorded video. Poster sessions are planning to introduce e-poster style to upload on the web with limited period.
Presentation under the web conference system
Please refer following instruction for each session.
Oral presentation
Date and time: June 29- July 1 following the program
Presentation style: Web conference system; Webex Meetings https://www.webex.com/
Basic concept
Oral presentations are distributing as live streaming. However, prerecorded presentation is also acceptable except for Excellent Presentation Award because of examination.
The presentations are going to be displayed all participants via web system. Presentation material has to be prepared as ordinally style.
If you would like to present your presentation as prerecorded video, please prepare the presentation video (mp4 format) by using Webex-like web conference system and upload it via web, or ask to the secretariat about how to prepare the video in advance at least one month before. This method is, especially, for the presenters who lives in an area with time differences from Japan.
Q & A session might be proceeding between chair and speaker, it would be difficult to receive questions from other participants.
Your presentation will be recorded while your presentation which can be watched on the web, among the participants who have pre-registered, about a month period after July 1. If you disagree this, please contact to secretariat.
All provided materials are discarded by secretariat after the above viewing period.
A sample movie (Japanese version only) for presentation has been uploaded.
>> http://jsot2020.jp/contents/participant.html
Poster session
| | |
| --- | --- |
| Date and time: | 1. June 29 – July 1, 2020 |
| | 2. after conference with limited period. |
Presentation style: Electronic poster (E-poster) style
Basic concept

Your poster data (PDF) will be upload on the 47JSOT website along with your abstract. It will be able to browse during limited period. Q&A will be conducted by personal communication (e-mail, etc.) individually. Thus, your e-mail address must be written on the PDF data.
The secretariat will set up copy and print protection for your data.
E-poster can be browsed by only registered participants on the web during conference period and about a month period after conference. (It is necessary to consider appropriate contents to write.) If you disagree this, please contact to secretariat.
All provided materials are discarded by secretariat after the viewing period.

[Important notice for data preparation]
It should be made with PDF.
There is no limitation for size, aspect ratio and a number of pages of PDF data.
Your Poster number, abstract title, name, affliation and e-mail address must be written on the PDF data.
Your file must be named as "Poster number and your name" (ex. "P-1 Taro Tokyo.pdf").
The fonts of your presentation should be MS Gothic, MSP Gothic MS Mincho, MSP Mincho, Arial, Century, or Times New Roman. Do not use special or downloaded fonts.
Submission deadline:
June 19 (Fri) , 2020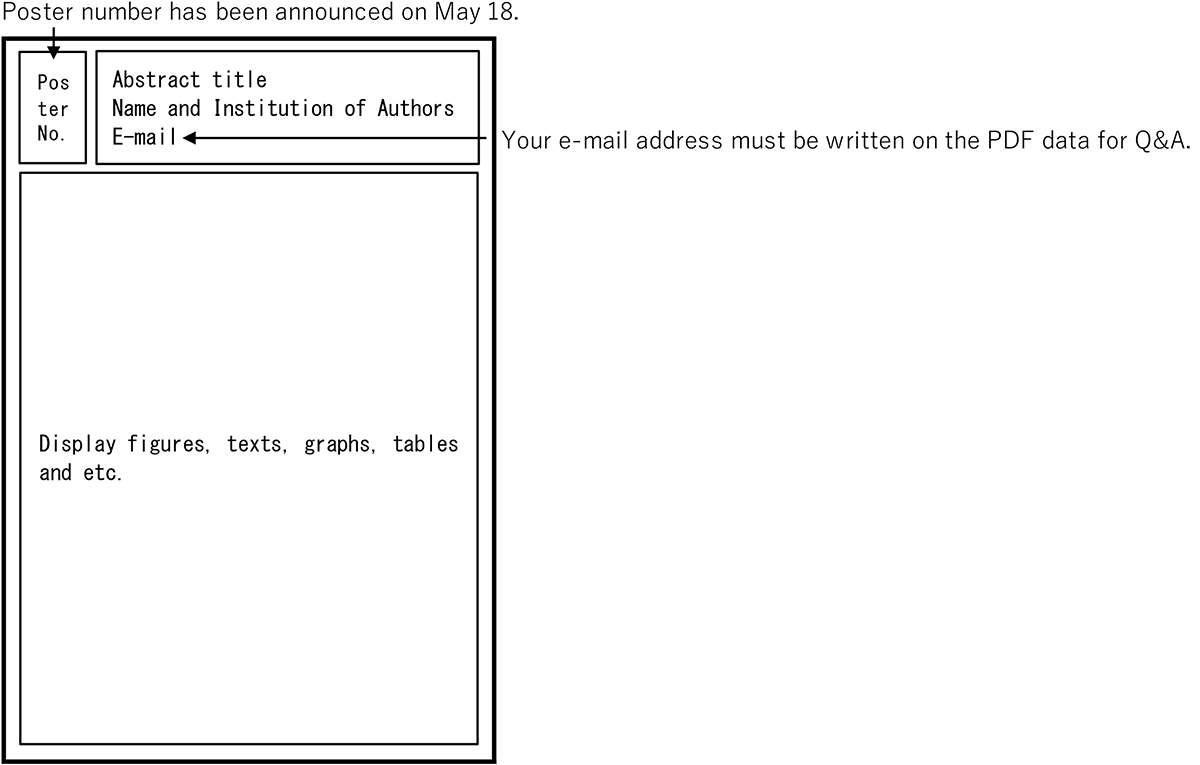 Excellent Presentation Award / Student Poster Award
Excellent Presentation Award / Student Poster Award are examining as usual. Applicants will be asked to submit a poster data in advance. The names of award winners will be announced at the General Assembly on July 1.
Registration
47JSOT is holding by web conference and pre-registration is mandatory.
We will send an instruction including URL and password to join the web conference by e-mail. Participation certificate with receipt will be emailed after closing the meeting.
Before the meeting the program and abstracts (PDF) will be able to refer on 47JSOT website. Further detail will be announced later.
Banquet is cancelled. Participants who have paid the fee will be refunded by late May. The announcement will be emailed later.
Online registration procedure is remaining the same. Registration page is http://jsot2020.jp/contents_en/registration.html.
Sponsorship (Sponsor hospitality channel, Sponsor CM, Sponsored Session and Ads)
Please contact the Congress Management Office (jsot47@senkyo.co.jp)